Letter Avalanche

On Google Play

On Apple Store

Facebook Page
Support, Comments and all that fun stuff.
Letter Avalanche is a new type of word game where gravity, physics and nerve are in play.
How well can you spell? Now, how good can you spell when the letters are falling in different positions and stacking up against you? Well, that's where the Letter Avalanche challenge comes in. Letter Avalanche is a fast paced twist on traditional spelling games that challenges your inner wordsmith and your ability to keep track of tumbling letters. The name of the game is speed, picking up the letters as they fall to form words and destroy the blocks. There are power-ups, bonuses, Easter eggs and many sounds were voiced by the multi-talented, Grammy nominated
Joey Belladonna
of Anthrax!
Now with 5 different word lists to choose from!
Here's the objective:
- Spell as many words as you can before they reach the top.
- Earn points and coins by spelling words.
- Spell the 'Bonus Words' and get a multiplier for the score.. and coins!
- Use power ups to help you during game play.
- Compare scores with your friends on Facebook.
During the game levels increase for every 15 words you spell. At each level you receive a free power up or multiplier, but beware the letters fall a little faster as well! Spell words of 9 letters or mare, and receive bonuses as well.
Login via Facebook to compare and try to beat your friends high scores. High scores reset every 7 days.
Tips:
- Every 250 letters you use you go up in rank.
- Over 50+ statistics on how well you are at spelling.
- Use coins to buy more power ups or letters!
- Save your multipliers if you can for a big word. You can also use multipliers together (2x+2x=4x)
- There are Easter Eggs. (Hint: Tweaking)
***For a limited time, when you sign in with facebook in the game you get
5,000 free coins!Q: Why should I log in to facebook in the game?
A: Your stats are stored online, so you are able to play the game from multiple devices and your stats follow you. When you play offline the stats are stored on the device and do not sync with facebook, even if you log into facebook later your stats and coins won't sync with facebook. By storing your stats online and you get a new device you won't lose you progress or coins.
Q: What information do you store and collect if I login with facebook.
A: Only your name. We collect nothing else, we don't want or need anything else The only benefits to us when you use facebook is you have the option to post your high score to your time line. You also get to see your friends high scores on the high score screen.
Q: Why don't you collect any data from facebook like other games do?
A: Because we are gamers, not the NSA. Our goal is to make a fun popular game, and you can only do that by listening to and respecting your users. :-) We don't sell or collect data so we have no need for it.
Enjoy the game!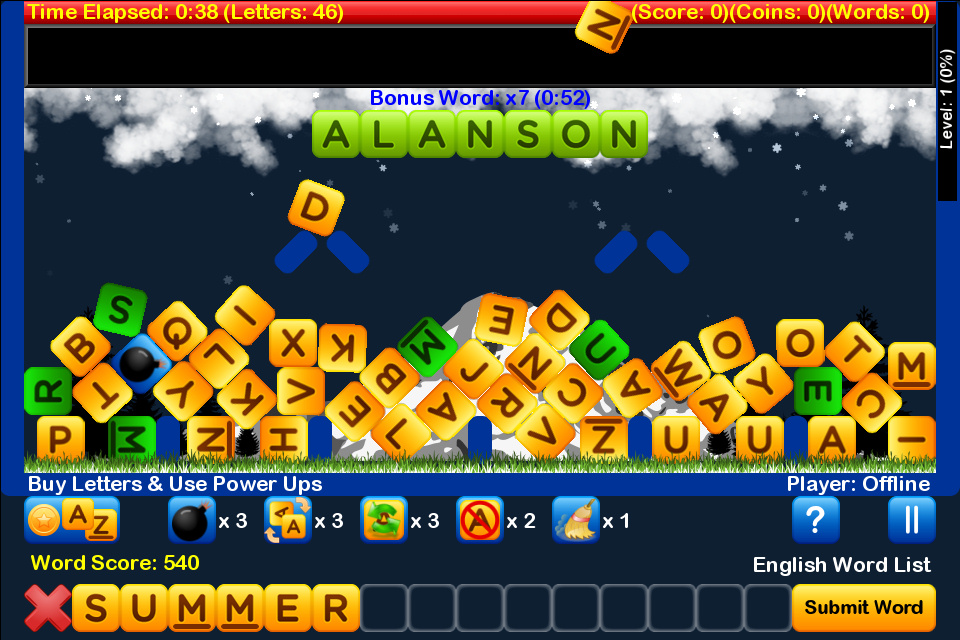 Tagged as:
Avalanche
,
Letter