Advanced System Tweaker
2.0.0 - For all versions of Windows
Installer (5.58 MB)

- Mirror #1 MajorGeeks.com
Tweaking.com - Advanced System Tweaker is a central hub for any kind of tweak or anything else that can be done via registry files, commands and VBScript files.
The add-ons in the program allow it to grow and handle just about anything. The program has a direct link to search and find the growing list, of add-ons.
Using the program is easy. Browse through the installed add-ons and runs the one you want.
Unlike Simple Performance Boost, Advanced System Tweaker is add-on supported. So it has an unlimited possibility. You also only run one tweak at a time.
For a 1 click solution you can use
Simple System TweakerVideo Of the Program Thanks to MajorGeeks.com
https://www.youtube.com/watch?v=ZP6B8BJylm4
View Online Help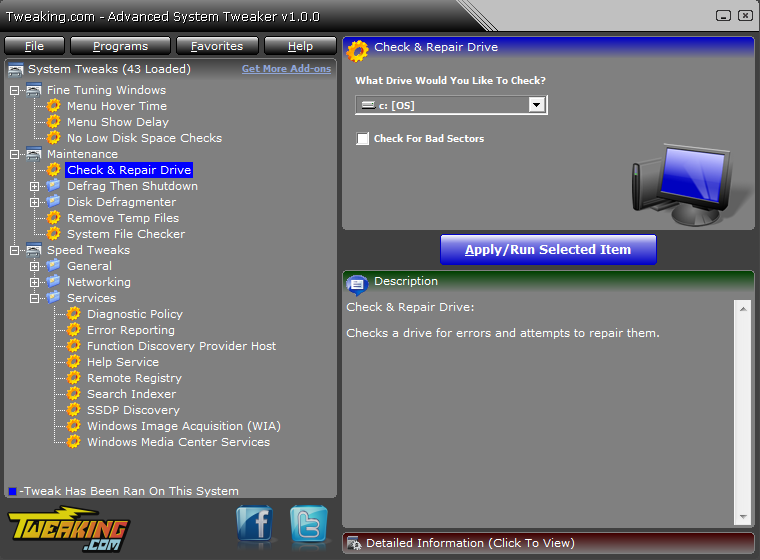 ---
Tweaking.com - Advanced System Tweaker Change Log.
v2.0.0
Major program change. In the previous versions, you could only run one tweak at a time. Now you can select the tweaks you want first and then apply them all at once.
Multiple code changes and some minor bug fixes.
Added frame containers and lines to the add on creator for tweaks.
v1.2.0
Fixed menu to backup and restore the registry not working.
It is updated the Optimize Registry (Compress) to use Tweaking.com - Registry Compressor.
Tagged as:
Advanced
,
System
,
Tweaker