Frequently Asked Questions (FAQ)
Got questions? Need help? Here are the most frequently asked questions about
Windows Repair
. Three categories (in bold) include General, Installation, and Post-Installation. (Under Construction 12-28-20)
Many common problems are solved by trying a few things first:
1: Check Windows Updates.
2: Update your drivers.
3: Boot into Safe Mode in the program or manually.
4: Run System File Checker - Type in
DISM.exe /Online /Cleanup-image /Restorehealth
and press enter. This may take a few minutes. When completed, type in
sfc /scannow
and press the Enter key.
5: Disabling Antivirus when installing or running.
6: Deleting temporary files. We recommend you use
CCleaner or Privazer
.
-= General Questions =-
Q: What is Windows Repair?A:
Windows Repair is intended to repair your computer when something breaks or after a virus or other malware has changed your default settings. Everything in Windows is stored in the registry, so most problems can be resolved by restoring the default registry setting for the problem you have. Windows Repair has a database of tens of thousands of default registry setting to save you the trouble of being forced to reinstall or reset Windows. All repairs are
Free
.
Q: Is Windows Repair really free?A:
Windows Repair began as a free project to help people repair their computers. As it grew in popularity, people wanted to make donations, so we decided to offer a Pro version with extra tools to thank you for your support. All the repairs remain free. You can purchase a license at
https://www.tweaking.com/content/page/windows_repair_all_in_one.htmlQ: I purchased a key but lost it.A:
Enter the email address used to purchase the program at
https://resend.tweaking.com
.
Q: Is support available for the free version?A:
We tried to keep up with support, but we were often months and sometimes hundreds of emails behind. Because of this, support will soon be available to registered users only. You can ask for help in the Support Forums at
https://www.tweaking.com/forums/
, and one of the moderators might be able to help.
Again, you can purchase a license at
https://www.tweaking.com/content/page/windows_repair_all_in_one.html
-= Installation Questions =-
Q: I get a sharing violation when installing?A:
A sharing violation is almost always because your antivirus is still scanning the download or has quarantined it as a false positive. Temporarily disable your antivirus.
Q: I get "A debugger has been found running in your system" error when installing?A:
You can reboot and try again or temporarily disable your antivirus or add Windows Repair to your antivirus whitelist.
-= Post-Install Questions (Troubleshooting) =-
Q: Windows Repair has been running for hoursA:
It's important to note that running all repairs is rarely
if ever
, required and not recommended. From the main screen, click on
Jump to Repairs
or click on the
Repairs - Main
tab near the top. Click on
Open Repairs
.
Uncheck the top box
All Repairs
. Scroll down and check the boxes that apply to your problem. Finally, click on
Start Repairs
. You might also find what you need in the Presets dropdown.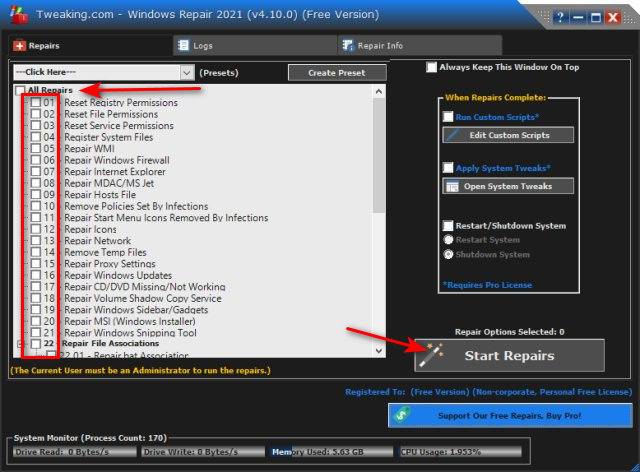 Q: I get an "Invalid Picture" errorA:
The invalid picture error is often due to not enough room in your Windows temporary folder. Press the
Windows Key + R
and type in
%temp%
. Press
CTRL + A
to highlight all of the files in the Temp folder and press the
Delete
key.
If you're not comfortable, we recommend you use
CCleaner or Privazer
to clean your temporary files.
Q: My Quick links aren't working after a reinstall or crash
-
Pro FeatureA:
If you just installed Windows Repair, a reboot will get the Quick Links working again.
Q: Window Repair won't installA:
We've seen a few problems, including "Could not open the uninstall executable for writing." Installing from Safe Mode usually works. Otherwise, try
downloading the Portable version
.
Q: I get "The Entry is Invalid" while running Windows RepairA:
This error almost always means there's a Windows Update available. Check for updates, reboot, and try again.
Tagged as:
Frequently
,
Questions