Simple System Tweaker
2.2.0 - For all versions of Windows
Installer (3.99 MB)

- Mirror #1 MajorGeeks.com
Portable (3.00 MB)

- Mirror #1 MajorGeeks.com
Tweaking.com - Simple System Tweaker is designed to bring only the safest tweaks to your system to increase speed and stability.
Windows is set up in a default configuration. By fine-tuning your Windows configuration, you can increase the speed and snappiness of the operating system. These tweaks are the ones that are safe and shown to cause no side effects with any programs. Each tweak only gives a small performance boost. But they all add up, so the more tweaks you do, the more performance you get.
What can you expect with this program?
It all depends on your current system. You can get faster boot & shutdown times, faster network file sharing, snappier feel to opening Windows and programs, and more stability. The system in all should feel smoother. These tweaks are the same ones I put on my customer's machines and have found them not to cause any problems with any programs.
Only safe tweaks are in this program. The program also supports a silent command so you can run the program silently.
Set the options you want, which will save to the settings.ini file. Run the program with /silent command and the program will apply based on your saved settings then close.
When the program runs for the first time, it will backup all the reg keys it changes into a backup. Reg file. This way if you ever want to put things back the way they were, a double click of that reg file and your good to go.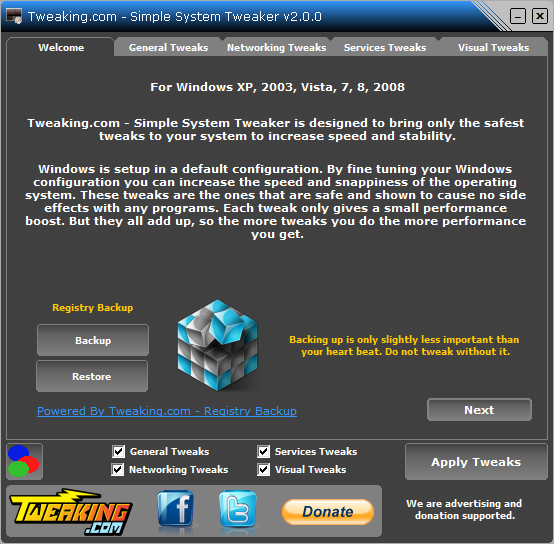 ---
Tweaking.com - Simple System Tweaker Change Log.
v2.2.0
Updated Registry backup to v2.0.0
I have updated multiple controls.
Multiple code changes and tweaks.
Added the new default v2 color scheme to the program and also changed it to the new default for a new install of the program. So now the colors are lighter with the new default, but of course, users can change it to any colors they like.
Tagged as:
Performance
,
Simple