The Tweaking.com Advanced System Tweaker will help your system run at its best while allowing you easy access to optimize your system fully.
We will examine the many features and advantages of this software in this post, giving you professional advice on how to increase the speed and effectiveness of your computer.
What is the Tweaking.com Advanced System Tweaker?
The Tweaking.com Advanced System Tweaker is a flexible piece of software that enables users to optimize the performance of their PCs.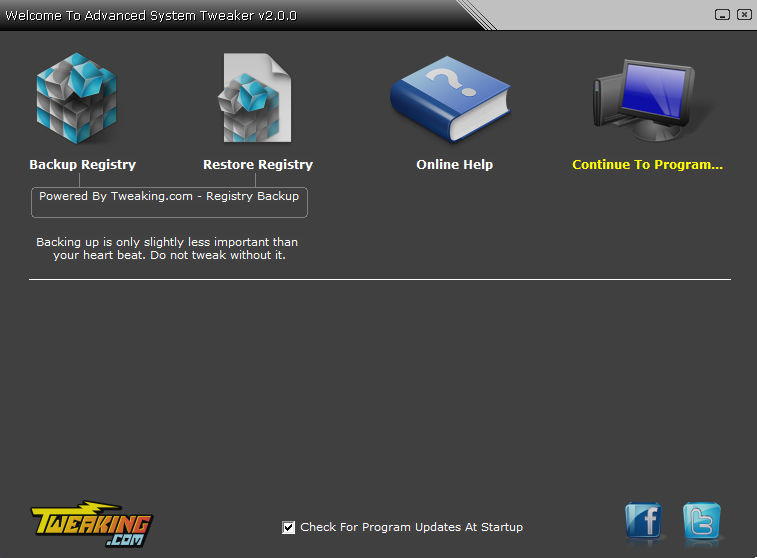 This tool can greatly improve your computer's speed, responsiveness, and overall user experience by adjusting numerous settings, optimizing system resources, and removing pointless bloatware.
Let's explore this wonderful software's main attributes and features in more detail.
Main Program Layout
File menu
Clicking the File button from the top left side toggles a menu with a variety of options available for you: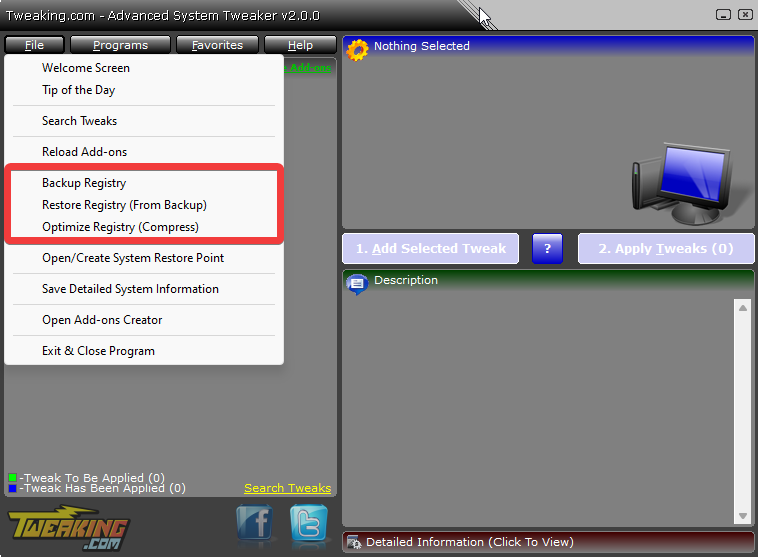 Contains the following options:
Backup Registry
Restore Registry
Optimize Registry
Choosing one of these options will result in the software running ERUNT. It is always a good idea to back up your registry before making any changes to your system.
Open/Create System Restore Point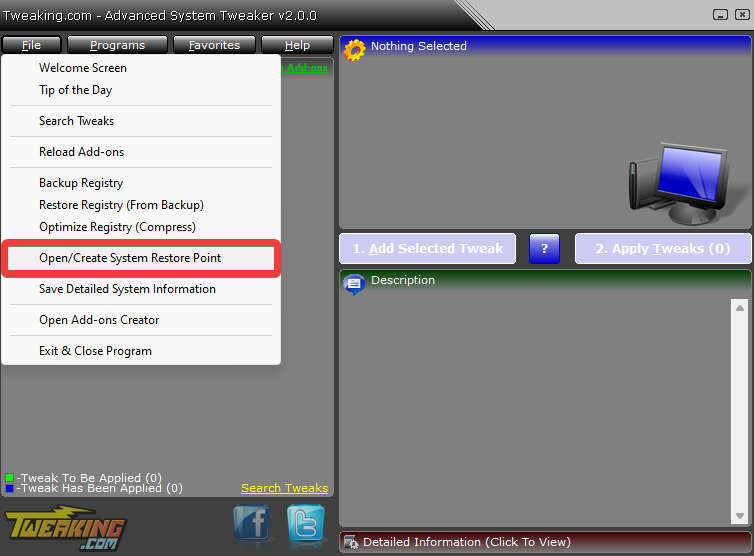 This option will open the built-in Windows System Restore, where you can make a new restore point or restore one. Again, remember that it is always good to have a backup!
Save Detailed System Information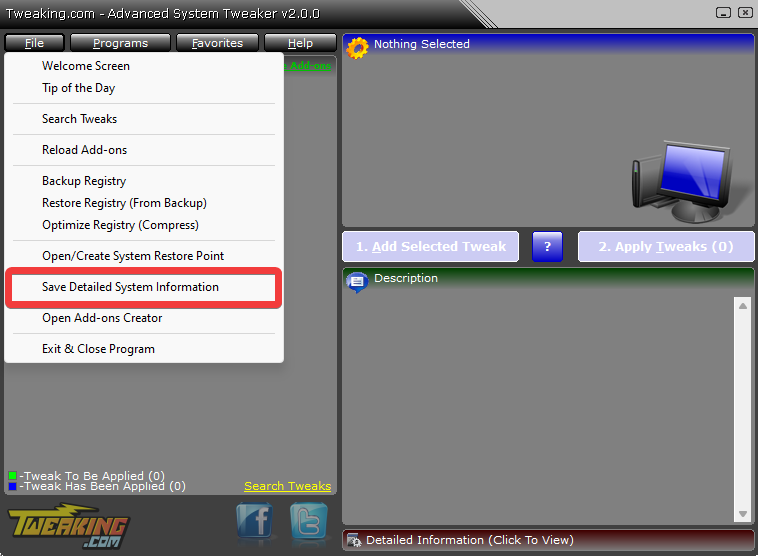 This will open the Tweaking.com – System Information program. With this tool, you can save detailed information about your system to a text file. This element is very handy when sharing your system information with someone.
Open Add-ons Creator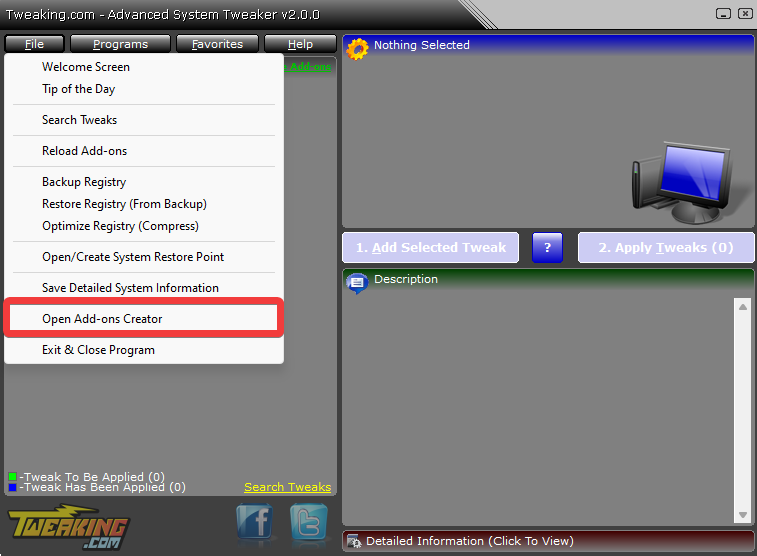 This opens the add-on creator for the program, allowing you to create custom add-ons or download new ones.
Add-ons are the base on which this software is constructed, and by adding more of them, you can expand the capabilities of the Advanced System Tweaker even more.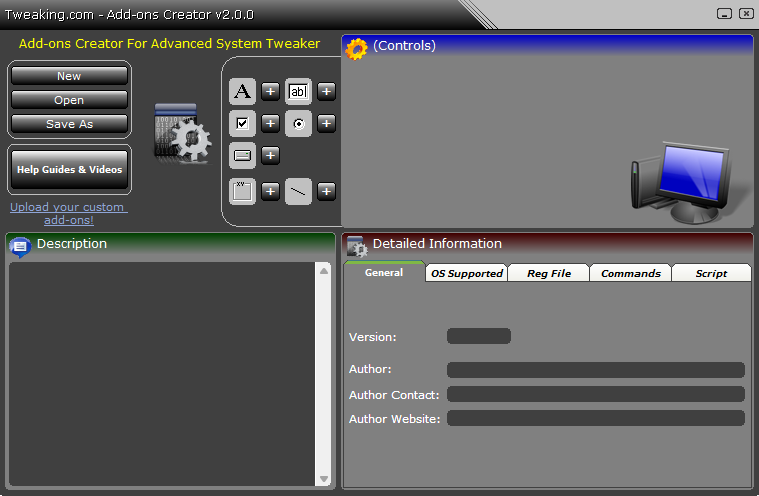 How to add and remove add-ons?
Installing add-ons in the Advanced System Tweaker is very easy and straightforward:
Adding an add-on
Open the Add-ons Creator.
Click the Open button to load a new addon.
A File Explorer window will open. Choose the add-on you want to add from the folders.
As soon as you double-click it, the add-on will be automatically shown in the software.
Add more add-ons or modify the settings of the one you chose, and then click Save As.
Key Features of the Tweaking.com Advanced System Tweaker
Maintenance
The Maintenance section of the software includes a variety of tweaks you can apply with a few clicks of the mouse:
Check and repair drives
Disk Defragmenter (Windows Vista, 7, 8, XP, and 2003)
Remove Temp files
System File Checker
Speed Tweaks
Applying tweaks to improve your speed has never been easier with this software.
This option is split into the following sections:
General Tweaks
Networking Tweaks
Services Tweaks
Windows 7 Tweaks
The Advanced System Tweaker app also includes a variety of Windows 7 tweaks, covering everything you need:
Context Menu Adds
Disable services and functions
Enable functions and services
Miscellaneous Tweaks
Speedup Tweaks
Windows XP Tweaks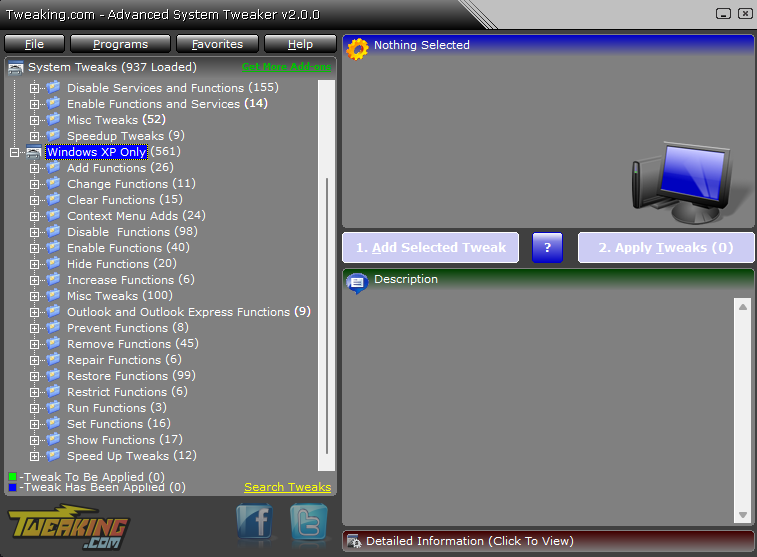 The software also includes various tweaks for Windows XP, which cover all aspects of your OS.
Feel free to explore each of the sub-menus to get a better understanding of the capabilities of the software for this OS.
How can I use the Advanced System Tweaker to optimize my PC?
Download the Advanced System Tweaker from the official website.
Run the installation executable file and follow the on-screen instructions to complete the setup.
Run the software from your Desktop.
Create a registry backup.
Click the Continue to program option to open the app.
Explore the tweaks menu and apply them according to your needs.
As you can see, using the Advanced System Tweaker to apply, edit, and create tweaks is very straightforward.
Anyone wishing to improve their system's performance should use the Tweaking.com Advanced System Tweaker. It gives you the ability to fine-tune your computer, get rid of pointless junk, and improve your entire computing experience thanks to its extensive feature set and user-friendly interface. With the Tweaking.com Advanced System Tweaker, bid slowness farewell and welcome to a quicker, more responsive system.
FAQ
Is the Tweaking.com Advanced System Tweaker suitable for beginners?
Absolutely! Although the Advanced System Tweaker offers sophisticated customization possibilities, it also has a simple interface that enables users of various levels of experience to utilize it. You can easily access and use the software, regardless of whether you're a tech-savvy enthusiast or a casual user.
Will using the Tweaking.com Advanced System Tweaker void my warranty?
No, utilizing the Advanced System Tweaker from Tweaking.com won't void your warranty. The software does not make any modifications that would void your warranty; instead, it runs within the restrictions set forth by the operating system.
Is the Tweaking.com Advanced System Tweaker compatible with all versions of Windows?
The Tweaking.com Advanced System Tweaker is compatible with Windows 10, 8, 7, Vista, and XP, among other Windows versions. You can use the power of this software to enhance the performance of your system, whether you're using the most recent version of Windows or an older one.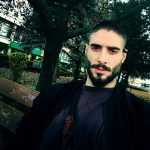 Vladimir Popescu
Verified at:
07/03/2023 10:31
Vladimir started writing articles about Windows because he has a natural interest in this topic, and he has been an avid professional user with more than 15 years of experience. He's also been writing for WindowsReport.com, MSPoweruser.com and present in various other online publications on matters related to Windows and Windows servers.
Vladimir enjoys practicing Crossfit and making art when he's not creating top articles with in-depth information.
Read Full Bio